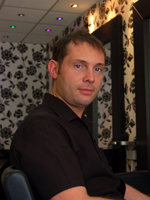 Paul Senior owner of Skin Deep, Disbury has been using SolarTrack in his salon for over 2 years now, "My business has become more efficient, I can manage my sunbeds, therapists and stylists' appointments with ease, send sms or emails to my clients by a few mouse clicks and my stock checks are no longer chore. By running reports it has also helped me see where I can improve on product sales, staff management and winning old customers back. Using SolarTrack has improved the running of my business and helped it grow. It has given me more time to look after my clients, maintain our high standards and enjoy the salon."
---

"Moving to SolarTrack was the best thing I could have done."
Read about how Supernova, a well-established Tanning and Beauty salon based in St Helens, has used SolarTrack to grow their business and increase their profit.
Steve Gregory, Managing Director of Supernova Tanning Studio says "The reports facility is also of great use to me. I can see the best selling products and the most popular sunbeds. This helps me decide areas that are working well and areas that need to be improved."
---

"SolarTrack has paid for itself in the first 2 weeks!"
Tan Express, an 8-strong chain of tanning salons, use SolarTrack. They say that the system paid for itself in two weeks.
Gary Thwaites, Managing Director of Tan Express says "An additional benefit has been in the time and money saved now I am no longer using token meters. The time spent counting, checking and delivering tokens has been a major part of each day. SolarTrack now emails me a report every night showing how each salon is doing so I have time for a life away from the shops. "
---